CAPSLOCK Co-founders Debut Cyber Security Masterclasses at Retrain Expo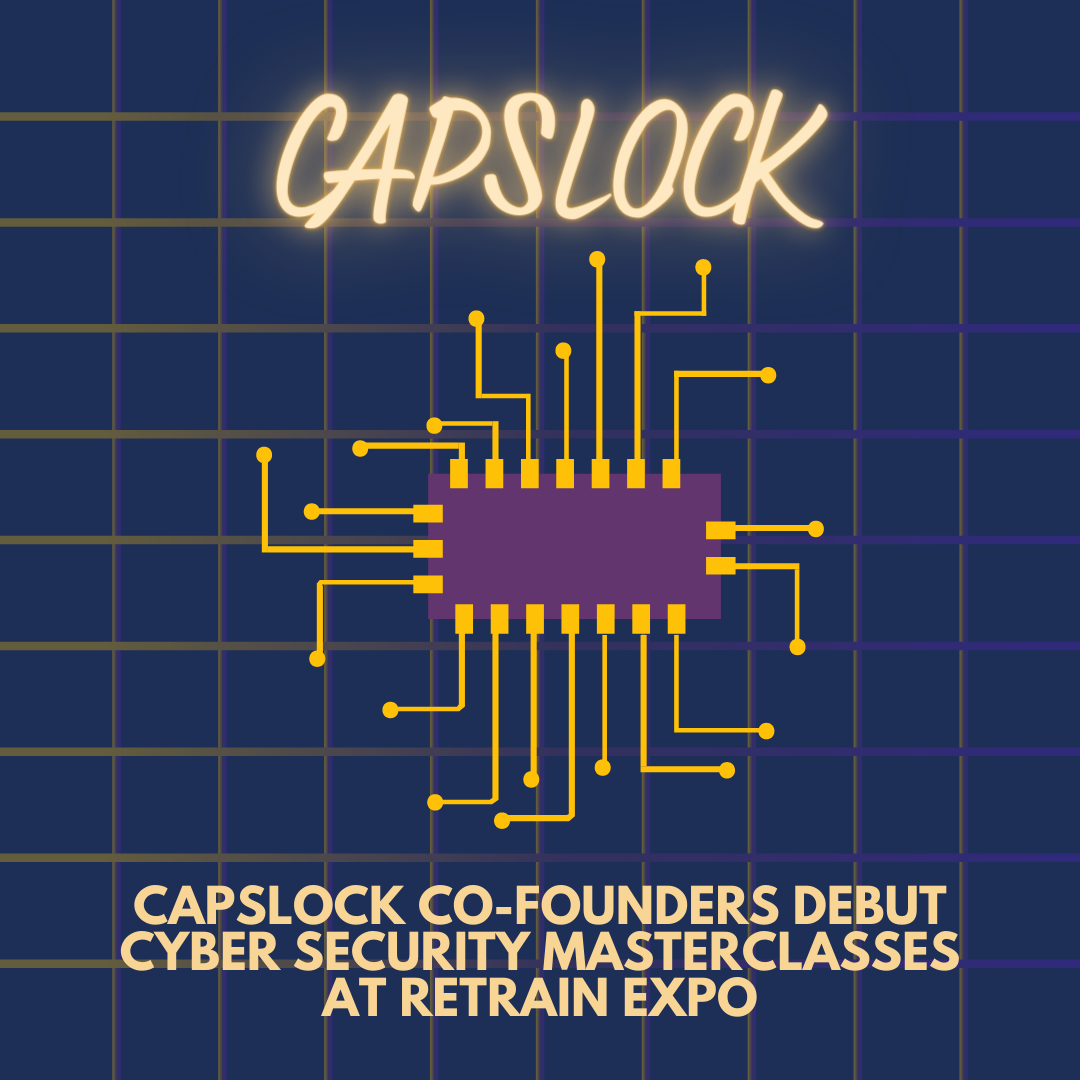 CAPSLOCK are taking their cyber reskilling evangelism to new levels at this year's Retrain Expo by hosting an exclusive masterclass series.

The education company launched in 2021 and have reskilled over 430 adults from all backgrounds into cyber security professionals to date. Their award-winning cyber bootcamps are helping to remove barriers to opportunity, unlock people's potential, reduce the cyber skills gap and increase diversity in the industry.
Now, they've created a set of 'Secrets to Cyber Success' masterclasses for anyone who is considering a career switch to cyber or is looking to improve their company's
cyber resilience.
The masterclasses will cover a wide range of topics, from how land your dream job in cyber to why workforce diversity is the key to cyber success. The full list of sessions is outlined below:
No More Smoke & Mirrors: How to land your dream job in cyber - You have the potential to start a career in this industry, no matter your background. This masterclass will help you answer questions like: "Is cyber the right path for me?", "How can I begin a career in cyber?", "Do I need experience or qualifications?", and many more.
How to Hack a Human: Inside the mind of a social engineer - Do you know what makes people tick? Can you talk your way out of any situation? Then you're already thinking like a social engineer. Find out more about a social engineer's motivations and tactics, and how to defend against them.
Unlocking Potential: How to make the most of your existing talent - Retraining existing staff helps businesses to retain valuable and loyal employees and, in some cases, avoid redundancies. Learn how BT made the most of their existing talent by collaborating with CAPSLOCK.
Disrupt the Norm: Why your workforce needs to reflect the diversity of society - The more our cyber workforce reflects the diversity of our society, the better our cyber solutions will be. Find out why active inclusivity matters, and why ticking boxes is not enough.
Speaking Up: The importance of every voice in the room - Last year, CAPSLOCK published a shocking report about the meeting-room misogyny experienced by their female co-founders. We can all play a part to make sure all voices are respected and heard, so let's start a conversation.
3 Minds to £3 Million: A co-founder's story - Launching a start-up during a pandemic was never going to be easy. Learn how CAPSLOCK's mixed-gender founding trio navigated the Covid crisis, ignorant investors, and nightmare naysayers to turnover £3 million in revenue within 2 years.
With over 430 learners and alumni on their books, a plethora of awards in their pockets, over 100 industry employer partners and some recent government funding to boot, CAPSLOCK are ready to share their secrets to cyber success. You'll find the CAPSLOCK 'Secrets to Cyber Success' masterclass theatre at stand R1870 at Retrain Expo, ExCel London, on the 16th and 17th of November 2022.
To register to attend any of the above masterclasses, visit:
https://www.retrainexpo.co.uk/masterclasses-secrets-cyber-success
For more information about CAPSLOCK's cyber security bootcamps, visit:
https://capslock.ac
For more information about working with CAPSLOCK, visit
https://workwith.capslock.ac