26 Oct 2021
Common misconceptions about apprenticeships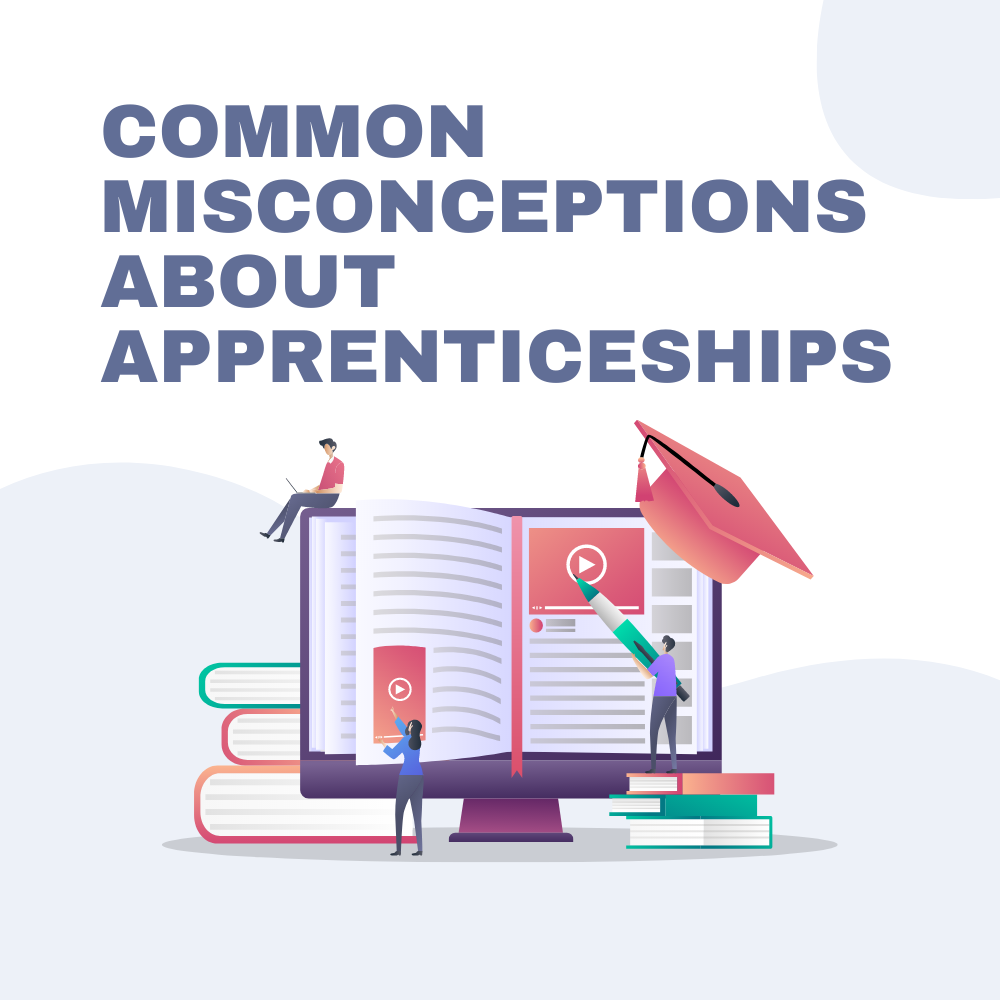 There are many misconceptions regarding Apprenticeships being primarily related to the more traditional 'trades' such as construction, hairdressing, cooking, the automotive industry, engineering, and manufacturing. However, since the introduction of the Apprenticeship Levy, and a more diverse range of nearly 600 up-to-date Apprenticeship Standards developed by Employer-led 'Trailblazer Groups', opinions are changing!
One of the common misconceptions is that Apprenticeships are very one-dimensional, restricting you only to the chosen field or job role. However, 'business' apprenticeships such as Associate Project Manager, Team Leader, Operations Manager, Improvement Practitioner and Safety, Health & Environment Technician have transferable skills and can be applied to many job roles in many sectors. However, such Apprenticeships have also come under some criticism for being too far removed from what a traditional apprenticeship should be, so let's look at both sides of the argument.
Apprentices don't contribute much to the Business
One common misconception is that apprentices are not very productive and do not contribute much to the organisation. However, the opposite is true, Government research in 2018 uncovered a very encouraging statistic – that 65% of apprentices (of a total of 844) in the study remained in full-time employment after finishing their apprenticeship. I think that we can all agree that an Employer would only employ an Apprentice if they had made a positive contribution!
To illustrate the contributions that Apprentices can make, let's look at Associate Project Manager and Improvement Practitioner Apprenticeships as an example. Apprentices on these programmes must be able to demonstrate they are working on a proper work-based Project with clear responsibilities and able to demonstrate the knowledge, skills and behaviour they have acquired, and the impact their project has had. This clearly demonstrates that Apprentices working towards these apprenticeships will make a positive, tangible contribution to the business if supported and correctly mentored their Employers.
As such, Apprentices do not spend their time making tea, browsing the internet and making little contribution to the business, it takes real passion and dedication to complete an Apprenticeship programme.
Apprenticeships are not held in as high regard as Degree qualifications.
Apprenticeships are often misunderstood by many people to be of considerably less value than Academic degrees. However, a largely unknown fact is that Apprenticeships provide a progression pathway to Degree-Level Apprenticeships, while retaining their unique value by incorporating real work experience which cannot be gained by simply completing an academic degree. An example of such a progression route are Level 3 Team Leader/Supervisor and Level 5 Operations/Departmental Manager Apprenticeships. Both can be accompanied by optional certification by, and membership with the Institute of Leadership & Management or the Chartered Management Institute. Upon completing these Apprenticeships within 3 years, the next step for an Apprentice would be to enrol on a Degree Apprenticeship in Leadership and Management, or even go onto a Master's degree! The biggest benefit of the apprenticeship route is that not only does the learner not rack up tens of thousands of £s in student loans, they are earning a full time salary along the way!
What's the cost?
Many people also think that apprenticeships place additional financial strain on Employers to support Apprentices. This is also a major misconception! The Apprenticeship Levy was introduced in 2017, and in addition to the monthly Employer contribution, this is topped up by Government. Research between May 2019 and March 2021 shows that more than £2 Billion was returned to the Government as unspent Levy funds, so there is plenty available. There have also been additional incentives available (ranging from £1500 - £3000 per Apprentice) for Employers to hire new Apprentices. There is even better news for Employers that do not pay the Apprenticeship Levy, the Government will fund 95% of the cost of the Apprenticeship Training, with the Employer only having to pay a 5% contribution. This investment has led to an increase in the quantity and the quality of the apprenticeships available over the last 4 years. The Apprenticeship Levy has therefore opened many gateways to new careers and opportunities for career development for individuals of all ages
Prospects for Apprenticeships
What we have seen over the last few years is a significant shift in public awareness and perception of Apprenticeships, we have seen more young people, and their parents consider Apprenticeships as a viable alternative to university. We have also seen large corporate organisations shift their thinking towards hiring Apprentices, but also using the apprenticeship scheme to provide meaningful career development for existing staff of all ages by enrolling them on apprenticeship programmes that provide them with new knowledge, skills and behaviours.
Interested?
ELA Training Services are a national training provider specialising in providing Apprenticeships and short courses in Leadership and Management, Project Management and Business Improvement. ELA provide high-quality and flexible solutions to address a wide range of organisational training requirements.
Visit us at stand C286, or contact us for a free training needs analysis (0208 0171425 / info@ela-training.co.uk)