22 Jul 2021
Exclusive Interview With Touker Suleyman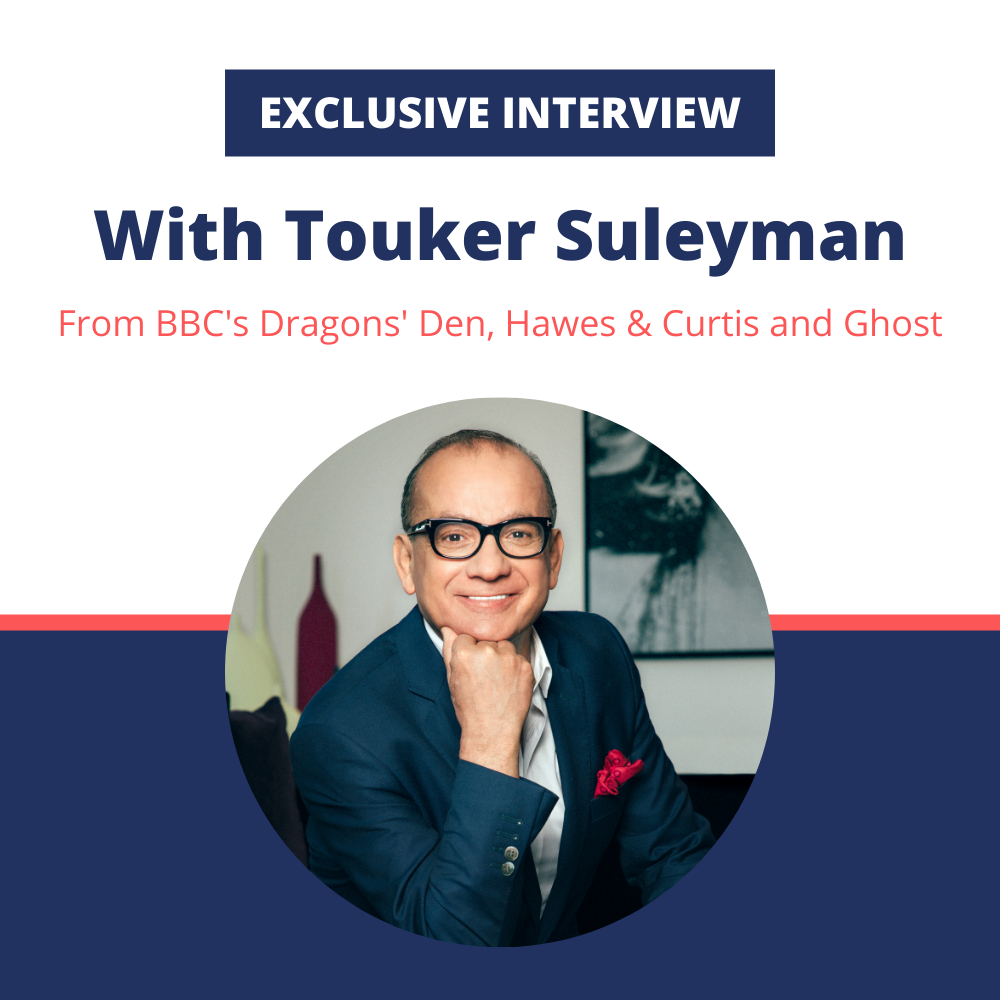 An exclusive interview with our keynote speaker Touker Suleyman. Find out how he made his brands so successful and his advice for future entrepreneurs.
One of the current Dragons on the BBC's Dragons' Den, Touker Suleyman has 40 years' retail and manufacturing experience and is best known as the chairman of quintessentially British menswear brand, Hawes & Curtis and the man credited with reinventing the seminal 90s womenswear label, Ghost. Read his answers to the questions we asked below and don't forget to get FREE tickets here, to see his keynote at the show this year!
1. Tell us a bit about your early background and business experience?
I was very successful from an early age; I was on the board of two public companies by the time I was in my late 20's. However, some bad investments made without doing my due diligence cost me everything I had at the time. Some tough early lessons, but I learnt a great deal from them.
2. Do you have any interesting products you are currently working on?
Yes, we are entering the Cycling industry with a company called Bikesoup. Bikesoup will specialise in secondhand bicycles, with an online platform and physical stores.
3. How did you become successful, and what inspired you to follow and achieve your goals?
My success really stems from being in the fashion business at the right time. We were one of the very first manufacturers in Turkey which gave us a great price advantage against our competitors. From there we developed a strategy to create our own brands hence we now have Hawes & Curtis, Ghost adn Finery. As our success grew within the fashion industry. I reinvested my money back into property. Much of my property portfolio I still hold today, and it has increased in value tremendously.
4. What challenges have you experienced and how have you overcome them?
Business is a challenge every day. In the clothing business the biggest challenge has been to have the continuity of business over a long period of time. I have always tried to overcome this by understanding the customer's needs and provide that at the best possible value. It is key to have a long term view in fashion! I think this is a big factor as to why we are still around today.
5. What advice would you have for future entrepreneurs?
Find your passion. You've got to do something you love. Once you've got your idea, define your USP. Does this fill a gap in the market? Make sure you do your market research. Understanding who your competitors are, and why they have been successful will help shape your decision making. Starting is never easy. If you need to raise money, look to do this through family and friends initially so you don't find yourself in a situation where you are giving too much equity away. Finally, don't be afraid to do what others do, just do it better!
6. Do you see any opportunities arising in 2021, and if so, what would you say are the key business sectors to watch?
There are always opportunities For me I think the key sectors to watch currently are tech and cycling. I also think we will see a resurgence in both retail and hospitality.
7. Are there any missed opportunities from Dragon's Den that you regret not investing in?
Fortunately/unfortunately I wasn't in the Den when the biggest investment came through (Reggae Reggae Sauce). Since I've been a Dragon, I've always told myself never to look back, always look forward. There are always new opportunities around the corner. One investment I am very excited about is Gener8, which I think has the potential to be one of the best Dragons' Den investments ever made! My focus always remains the same - I want to help small entrepreneurs grow their businesses!