LCCI Community App – Get Connected!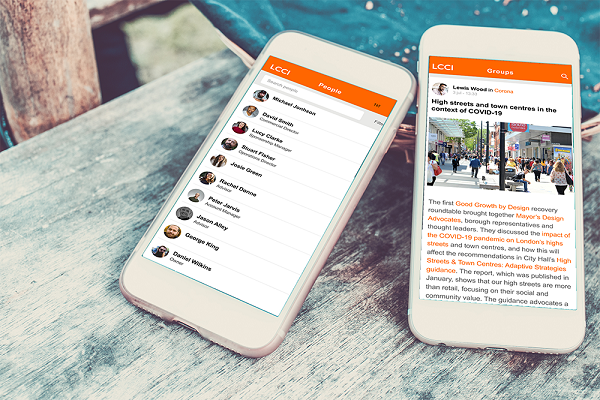 London Chamber of Commerce and Industry (LCCI) has launched a new, free B2B social network app for its members and any business who registers with the free LCCI Community Network. Recognising that businesses are at their best when they come together, the LCCI Community App facilitates these connections digitally and allows businesses across London to connect, share and chat.
Available Now
Designed to support business development, the digital B2B app enables professionals:
Connect with peers and start 1-to-1 chats

Join sector and interest groups

Find out about upcoming events

Discover LCCI member product and service offers

Get access, engage and provide comment on LCCI's policy, research and media activities
Raise your profile
It's now easier than ever to showcase your expertise to the network. The app has business interest groups that everyone can join and contribute to, as well as a selection of LCCI Member exclusive groups and sector-led groups. Take part to find out the latest news in your industry, find peers to collaborate with and share your business updates, events and opinion pieces.
"The app is very useful and easy to use. It's a great way to know what's happening in real time and is fast becoming the go to app to engage with the community. Thank you to the LCCI for this great initiative."
Timi Orija, CEO and Founder, 4s Events
One-stop shop
The app serves as a one-stop shop and gives a snapshot of LCCI's latest news and updates and ensures member news and interviews are highlighted. Get a quick insight with the integrated Twitter feed and list of upcoming events.
Open to all London businesses – Join today
You can download our IOS or Android app on your mobile by searching for 'London Chamber Community'. Or you can join on desktop at: https://community.londonchamber.co.uk/login
LCCI Members and Community Network participants can login to the app straightaway using their existing LCCI online account details. Make sure to customise your profile and we look forward to seeing you in one or two groups!
Not a member of LCCI? No problem!
With a Community Network account you can access a number of free benefits, including the LCCI Community App. Sign up for free at: www.londonchamber.co.uk/membership/london-chamber-community-network/
To find out more, please visit: www.londonchamber.co.uk/membership/lcci-community-app/
Get connected!