Top 3 reasons people retrain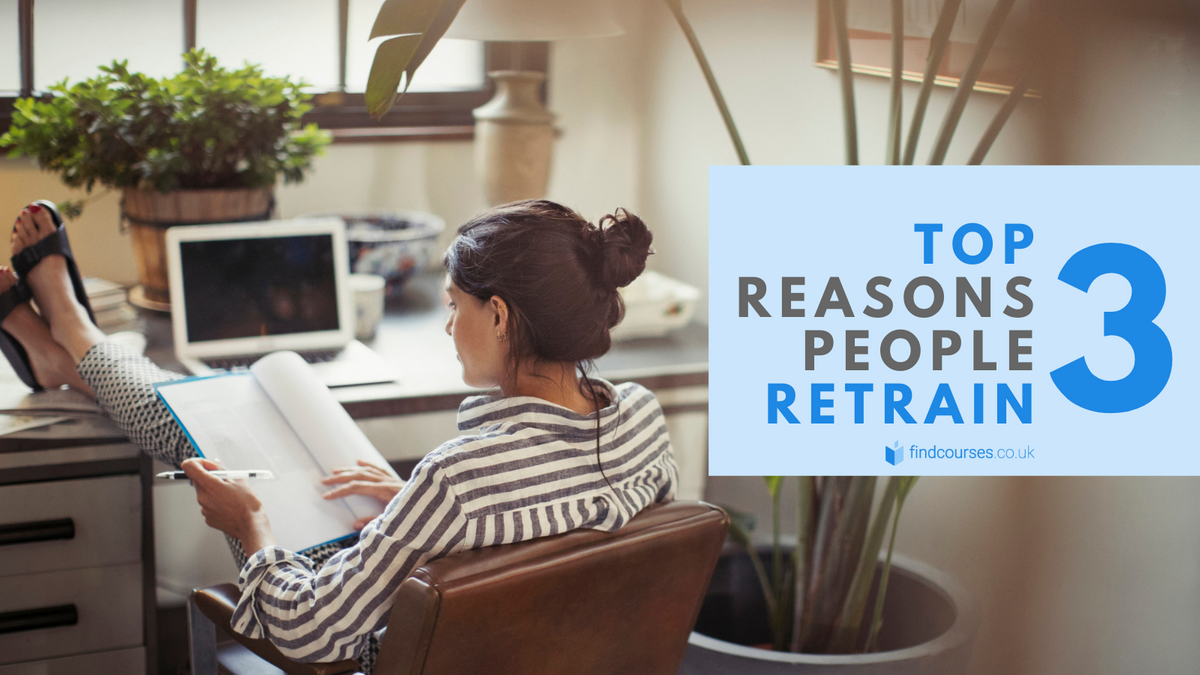 A guest article by findcourses.co.uk
---
Reskilling is a key buzzword for the learning and development industry in 2021. This is driven by two major developments. The first is the COVID-19 pandemic which has had a devastating impact on the UK job market. The second is the growing realisation that automation and technology are likely to displace certain tasks and jobs within some sectors in the next 10 years.
Nevertheless, when we asked people who have reskilled recently, we were surprised to find that future job outlook was not the only reason that drove people to change careers.
If you're thinking of retraining into something new, read on to learn three of the most common reasons to reskill, and get tips from those who have taken the leap!
Reason #1. Worsening job outlook
Many jobs and businesses have been badly affected by COVID-19, and for some, it prompted them to take on steep learning curves and reskill in order to pursue more rewarding roles:
"One of my hobbies for years has been language learning, so I started looking into what I would need to do in order to move myself into online education. Since last summer, I've been working towards becoming an online language coach and language teacher. I've started blogging at RelearnALanguage.com, which I hope to transform into a full business this summer."
- Marissa Blaszko, Relearn a Language
Reason #2. People want to follow their passions
Some people fell into a career while leaving their passions behind. Others continued to nurture their passions as hobbies or sidelines before making the jump to turn their passions into their livelihoods. Yet others began to develop interest in another field after working in their field for a number of years.
"A few years back, I started getting very interested in cheese, cheesemaking, and sustainable farming practices. I spent all my free time at local creameries, dairies, at The Cheese School and then competed in The Cheesemonger Invitational. About 9 months ago, I decided to fully commit to cheese and jump ship to open my own cheese shop.
My tip would be to find something you truly care about (even if you don't see a career in it just yet), learn everything you can, fully immerse yourself in that world, and then make the jump."
- Courtney Khoshafian, The La Canada Cheese Shop
Reason #3. People want better work-life balance
An unsustainable working lifestyle and stress are common push factors that make many people re-evaluate their working life.
"I'm a senior software engineer with 10+ years of experience. Over the past year, I have been transitioning from a software engineer into a content writer and SEO. This may come as a shock since software engineering is one of the best paying jobs around. However, after 10+ years in this field, it has taken its toll on me mentally.
My tip for people re-skilling into a new career path is to not do it cold-turkey. First, learn as much as you can about it. When you are ready, try to go part-time in your old job. This will help you minimize the risk and revert back if you have the need to.
- Aviram K., Woof & Beyond
If you're thinking of changing careers, why not discover the top 8 careers to reskill into, and get tips from those who have taken the leap and changed careers! Or, check out
our Top 10 courses covering 15+ industries and discover the right course for you today!