UMi launches exciting new platform to help businesses go further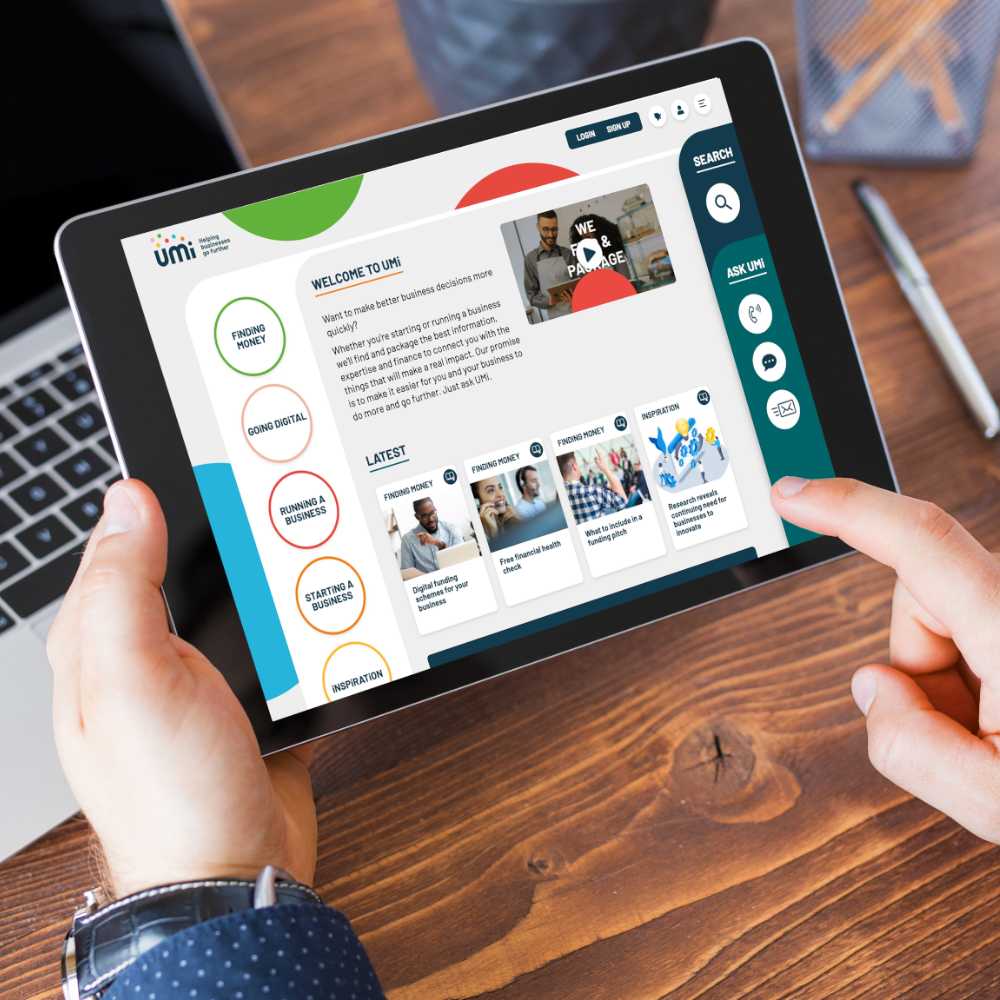 Following a successful beta trial with hundreds of business owners and entrepreneurs, UMi has launched its new platform.
The UMi platform brings together the best information, expertise and finance to make it easier for businesses to do more and go further.
Whether you're starting or running a business, UMi will give you the knowledge, tools and personalised support to connect you with the things that will make a real impact.
That could be as simple as helping you understand a new piece of legislation, through to securing the right funding, helping you adopt new digital technology or finding more customers and talent to unlock your potential.
To gain access to this wealth of knowledge, tools, resources and support, new subscribers can now sign up for a free, no obligation 30-day trial.
As part of your trial, you'll have free access to everything you'll need to make better business decisions, more quickly, including:
A dedicated team providing personalised advice via telephone, email or live chat
100s of actionable tools and resources.
Better financial deals from 100s of providers.
Eligible support sourced from 1,000s of local and national schemes.
Exclusive events and webinars
Introductions and referrals to industry experts.
And access to the UMi network of peers and partners
No credit card details are needed to enjoy the trial, after which, subscribers can continue to be supported for just £9.99 per month.
The launch of the platform is the latest evolution of UMi's commitment to make it even easier for the UK's business community to understand what their challenges and opportunities are, as well as the practical actions they can take to help them go further, whatever that means for them.
Since 2007, the company – which is a proud sponsor of this year's Business Show - has helped more than 450,000 businesses by offering a range of support services via its 140+ team.
UMi's ambition is to not just take the hard work out of finding and using the right information and advice, but to help predict and get businesses thinking about the things they don't even know they need to consider yet, based on the information and insights gathered from the businesses they have already helped.
Nicki Clark, UMi Chief Executive, said: "For almost 15 years, UMi has been supporting businesses to do more and go further and our new platform brings all of this information, expertise and finance together in one easily accessible place.
"We know that businesses are more than just bricks and mortar or numbers on a spreadsheet. They're living, breathing things, powered by people. We're here to guide those people.
"Our platform can help make it easier to make those crucial decisions, quicker by providing personalised information, expertise and finance - accessible exactly when you need it and in a way that suits you.
"At UMi, we're committed to going on that journey with you, every step of the way."
START YOUR FREE 30-DAY TRIAL TODAY
To access your FREE no obligation trial of the UMi platform simply visit weareumi.co.uk/webapp/sign-up/